"A Love Story" is a riveting story about a man, a woman and the wife who comes between them.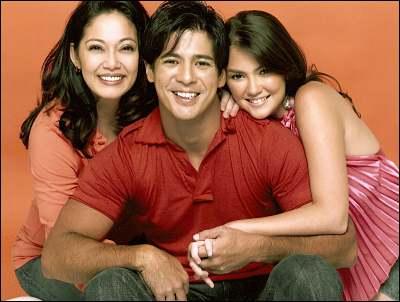 When I first saw the trailer on TV, I told myself "gusto ko itong panoorin". I couldn't remember exactly how it was said, but it was something like "when does a wife become a mistress?" and vice versa…
O di ba intro pa lang interesting na hahaha!
But I'm confused. Who is the wife and who is the mistress? Is it Maricel or Angelika? If you look at the other movie poster here, parang si Angelika ang wife coz Aga and Maricel look very happy together. Let's admit it, once marriage is invaded by another person, that other person over rules the relationship. And worst, mas sila ang nagmumukhang mag-asawa, di ba?
I really want to see this movie. I'm glad they have a worldwide screening and Bahrain is one of those – this weekend. I just hope I'll get to watch it (as if I can), otherwise for sure it'll be on pirated DVDs hehehe!