How did you know? 🙂 LOL! Conceited ba? Anyway, Yen handed me this award online. On what basis? Hmmm… better ask Yen about it!
In the meantime, let me pass this award to all the Filipina mommy bloggers reading my blog. It's about time to show what we, Filipinas, got.
Speaking of being a Filipina, let me take this chance to inform you all that the Contest for WikiPilipinas Filipina Stories is still running and submission for entries is accepted until March 1, 2008.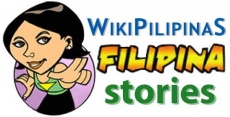 Cmon ladies, tell the world how sexy Filipinas are in so many different ways! Ang kumontra, panget hehehe!