Good find #1: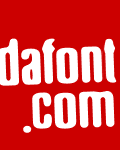 I was looking for fonts to fit in my digital scrapping layouts. I wanted some scripts and stumbled upon Da Font. It's so easy to navigate their site. Everything is categorized. It will give you a preview right away. I have downloaded 6 fonts today. Here they are:
I'll be back for more downloads… 😉
Good find #2:
I was talking to my husband over Skype and he mentioned that his boss just got this new gadget Linksys CIT200 Skype Phone. He gave me the link where photos are shown.
Photo source > TMCNet
The Linksys CIT200 is tightly integrated with Skype utilizing the Skype API for not just making and receiving calls but also accessing your Skype contacts and profiles. A USB base station acts as the "go between" communicating with both the PC (running Skype) via USB and with the CIT200 using the DECT standard. One of the coolest features is that you can scroll through your Skype contacts using the Linksys CIT200's color display and you can see their current Skype presence (online, offline, etc.). Then using the arrows on the phone you simply highlight the Skype contact and dial.
Hmmmm…. interesting! He's thinking of getting one for me. Checked the price and so far Amazon has the best price at $39.99. Actually, I can buy one now using my PayPal money but the problem is they don't deliver to Philippines. *thinking*