My blogging life had already gone too far. Not the traffic. Not the blog juice or whatever techno-term you usually call it.
I made friends…. and I'm certain that eventually that friendship would go deeper, not virtually but IRL, just like how the others.
When Feng said:
And to Mitch, Cookie, Auee, Analyse, and Julie–Blog friends too I truly treasure, because you have responded with understanding when I reached out to you for friendship, I'd love you to have these awards.

Thank you for your friendship and for inspiring me to be best Mom I can be for my Nico.
It registered not only in my mind, but in my heart. Why? Okay read her lines once again…. The first name that she thanked for was mine. Thank you, Feng! May bonus pang awards. Take note, awards. Plural. With S. Not only two but three.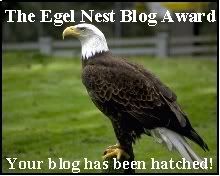 In return, I'm passing these 3 awards to three chosen people whom I really find nice on and off the cam, err… inside and out hehehe! Some would think and ask me "how do you know Mitch when you don't even know them personally?" I just know, don't ask further hehehe! Kidding aside, I really hope to know them better – in person, soon…
There… these 3 awards are for you…