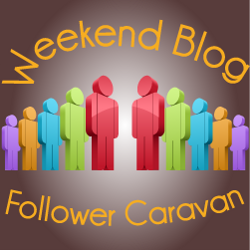 Aside from the fact that I want to brag about this newest (not) blog of mine (I'm going to launch a travel blog, too, soon!), it's no secret that this blog needs followers and readers. One way to do that is through the Weekend Blog Follower Caravan which where this post is leading now haha!
Here's the drill:
1. Make a blog post with our WBFC Badge to welcome all our participants. Make sure your blog post has links to this week's sponsors: Pink Memoirs and Postcard Enthusiast.
2. Within your blog post, place a LINK to your Facebook Fan Page. One Fan Page per Blog Post.
3. Submit your blog post to our linky tool below. Not your homepage URL.
4. Visit other participating blogs and leave a comment at our fellow participants' welcome post that you have liked their Facebook Pages by mentioning your Facebook Profile Name.
5. Again, like all participants thru their Facebook Fan Pages!!
6. Please a leave a comment here if you have done so.
So, there, please LIKE this blog's fan page : THE LATE BLOOMER.
Weekend Blog Follower Caravan is a simple online blogger-helping-blogger weekly meme. It was designed for bloggers to help each other in terms of blog followers either through Google Friend Connect and email subscribers.