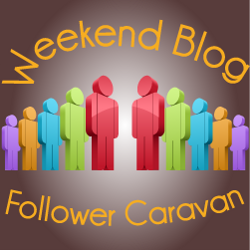 I am not going to let this week pass without joining WBFC. This week's task:
1. Make a blog post with our WBFC Badge to welcome all our participants. Make sure your blog post has dofollow links to this week's sponsors: Travels and Familia Wanderers. Don't forget to follow their GFC too.
2. On your post, don't forget to mention where your GFC widget is located. Mine is located at the right sidebar.
3. Submit your blog post to Rubz Online linky tool. Not your homepage URL.
4. Visit other participating blogs and leave a comment at our fellow participants' welcome post that you have followed them via GFC. Mention your GFC username as much as possible.
5. Again, FOLLOW all participants please!!
6. Please a leave a comment here if you have done so.
Weekend Blog Follower Caravan is a simple online blogger-helping-blogger weekly meme. It was designed for bloggers to help each other in terms of blog followers either through Google Friend Connect and email subscribers.