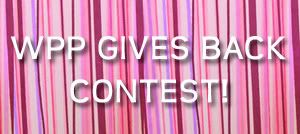 We are inviting all members to join, especially those members who are just hosted by wordpress.com or just hosted by a subdomain, here's your chance to have an experience of having your own domain! 
About: WPP Gives Back Contest
Start Date: April 21, 2008
End Date: May 23, 2008
Prizes:
Grand winner

: Free Domain Name and Hosting for one year. (Cpanel, FTP, WordPress Installed)

1st runner up

: Free 125×125 ad spots and 468×60 ad spots (one month)
How To Enter:
1) Make a blog entry about this contest and put "WPP Gives Back Contest" as your title. You may write it in any form but please mention our lovely contest sponsors, ahem ahem!:

2) Make sure you already put one of the WPP Banners and the updated WPP Link Love on your blog.
3) Post reply here telling you are joining and post the PERMALINK of the blog entry about the contest.
How To Win:
1) Create quality threads
2) Create quality posts
Note: How do we define quality threads and posts?
Threads and posts that everyone loves and they are really helpful to our WPP Members and this Community.
How to Pick the Winner:
The lucky winners will be chosen by the WPP Admins and Mods.
Announcement Date:
Roughly on May 26.