Been wanting to own an authentic Coach bag but each time I think of its price, I just drop the thought. The moment I stumbled upon this $300 Worth Brand New COACH Satchel Bag Contest, I told myself "This could be it!" I might finally own a Coach bag and the best part "no damage done to myself".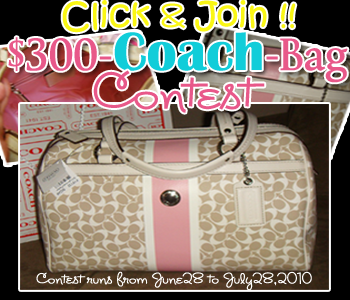 Main Sponsors: College Grants for Women : Fun Family Vacations : Pontoon Boat Cover : Baby Shower Theme Idea Level 1 Sponsors: Beauty Tips and Tricks : Get Smart Blog : Practical Beauty Tips : Spices of Life : Review My Opinions : New Haircuts and Hairstyles : Fabulously Frugal : Weight Loss the Healthy Way
Anyway this contest runs until the 28th of this month. Calling working mommies like me, try your luck. Who knows it could be you or probably me teehee!