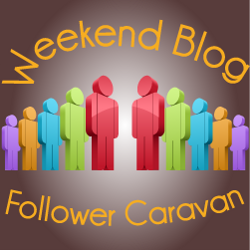 Weekend Blog Follower Caravan is a simple online blogger-helping-blogger weekly meme. It was designed for bloggers to help each other in terms of blog followers either through Google Friend Connect and email subscribers.
Need I say more? It's no secret that this blog is very new and needs followers. Just in time, WBFC's task for this week is all about Google Friend Connect! Here's the drill:
1. Make a blog post with our WBFC Badge to welcome all our participants. Make sure your blog post has links to this week's sponsors: Techie She and GEORYL: Welcome to Our World.
2. Submit your blog post to our linky tool below. Not your homepage URL.
3. Visit other participating blogs and leave a comment at our fellow participants' welcome post that you have followed them thru Google Friend Connect.
4. Again, follow all participants thru Google Friend Connect!
5. Please a leave a comment here if you have done so.